Regular price
Sale price
$14.00 USD
Unit price
per
Sale
Sold out
Muscle Salve is best described as a stimulating sensory journey. It has a pleasant warming aroma and a gives off a mild heating sensation when applied. It follows with alternating warmth and cooling sensations from the cayenne and peppermint, which increase blood flow and offer relief to the affected area. Use on arthritic knuckles, wrists, joints or any area that is experiencing aches, stiffness or tension. For deeper muscle and joint aches or chronic muscle pain see Magic Mist. 

*Salve color may vary, depending on natural hues of cayenne pepper from season to season.
 • Cayenne contains a substance called capsaicin, which has been known to help relieve pain by blocking pain receptors 
• Ginger is naturally warming and known as an effective anti-inflammatory

• Nettles give a counterirritant effect which can override musculoskeletal pain



Comes in a 1oz and 2oz screw top tin.


M E T H O D : Apply to affected area 2-3x a day, or as often as needed. Please read through all ingredients before first application. Discontinue use if irritation occurs. 

I N G R E D I E N T S: Organic Sunflower Oil infused with Organic Cayenne Pepper, Organic Ginger Root, Organic Eucalyptus Leaf, Organic Lavender Buds, Organic Nettle Leaf, Arnica Flowers, Organic Beeswax, and the Essential Oils of Peppermint, Eucalyptus, Lemongrass, and Clove. 

P R E C A U T I O N S : Keep out of eyes, wounds and broken skin. The nature of cayenne may color fabric.

*These statements have not been evaluated by the FDA. This product is not intended to diagnose, treat, cure, or prevent any health conditions. Please consult your doctor if you are on any medications, pregnant or nursing. 

Share
View full details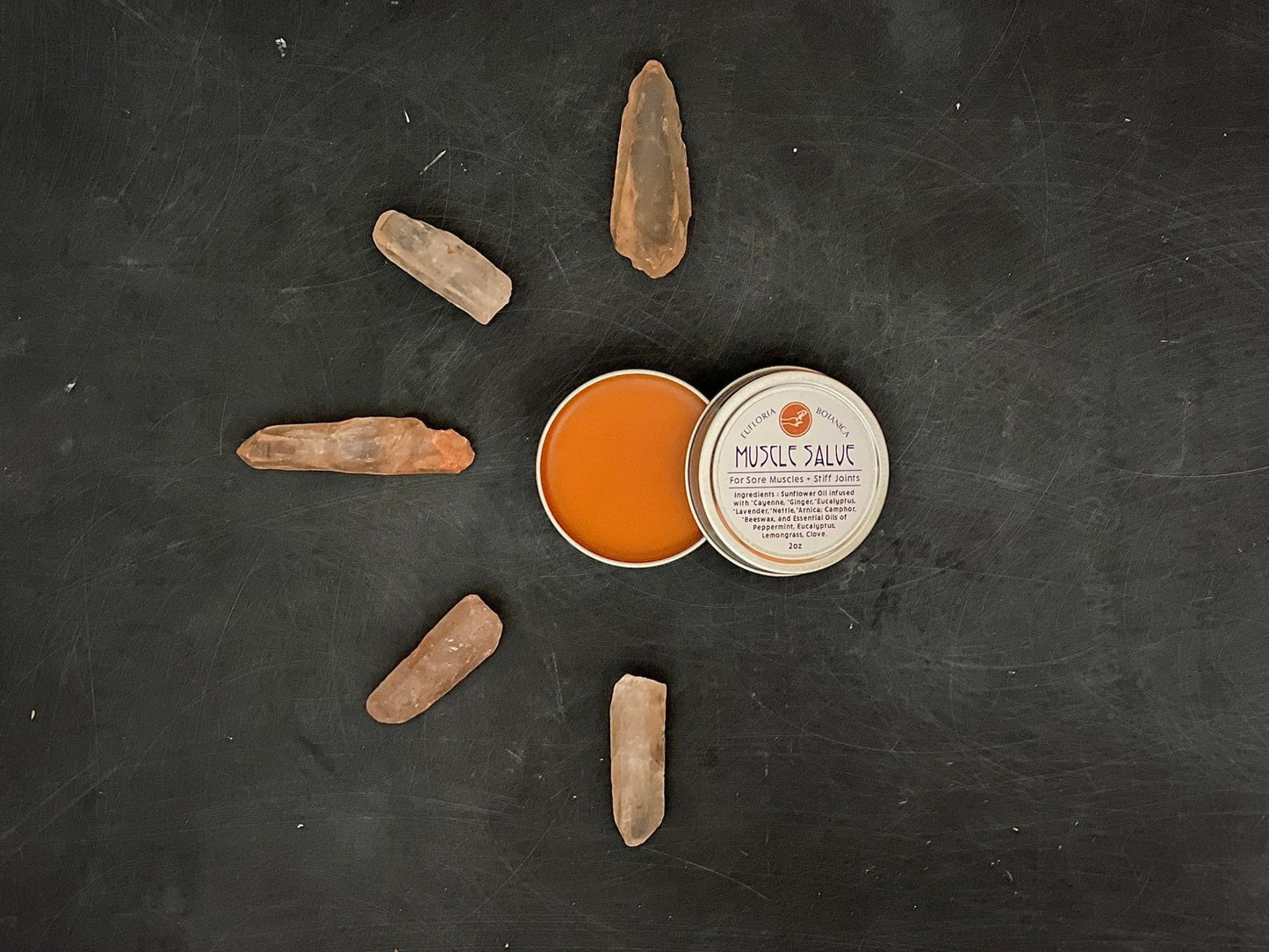 Great for frozen shoulder pain
My partner developed a frozen shoulder. We were trying everything to relieve the pain. Then I remembered picking up the muscle salve from the Olympia Farmers Market. I pulled it out and massaged his shoulder with it, and he reported the next day that it worked amazing! It felt so good on his arm and relieved his pain without burning him like some of the other salves we tried. I will definitely be ordering more. Idea: this makes a great stocking stuffer.
A little miracle
I picked this up because I tried a sample on my arm cramp and it cleared up in a few minutes. Put a little on my sore hip and that cleared up quickly. Now I'm using it on all my cramps and muscle pain.
It's not particularly greasy and it absorbs well. The smell is very light, and is non-intrusive. I have not seen any staining on my clothes. Very little goes a long way, and I like that.
I have to say, I'll definitely buy more. It's like a little miracle in a 2 oz can.