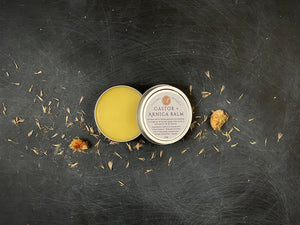 Castor + Arnica Balm
Regular price $14.00 Sale
I came upon making this balm when I began to get diagnosed with conditions that I would have to endure for life. From an inguinal hernia to an ovarian cyst to cyclical breast pain, I made this balm for any of us who have a condition we just have to nurse when needed. 

After application, balm is best if used under a heat pack on a low setting. Discontinue use if irritation occurs.

M E T H O D :  Apply to areas to help reduce swelling or bruising. For organ, nerve related pain, or menstrual cramps, apply under a wrap or heat pad for 20-30 minutes and rest for entire duration.

I N G R E D I E N T S :  Castor Oil infused with Organic Arnica Flowers, Organic Beeswax, Essential oils of Clary Sage, Frankincense, and Roman Chamomile.

These statements have not been evaluated by the FDA. This product is not intended to diagnose, treat, cure, or prevent any health conditions. Please consult your doctor if you are on any medications, pregnant or nursing.