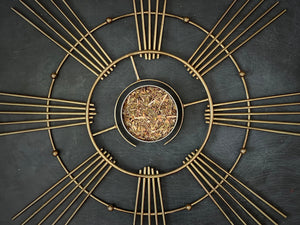 Vital Life Force
Regular price $10.00 Sale
In Ayurveda, Prana is the Sanskirt word for "breath" or "life force." In Chinese medicine, the translation for Qi (or Chi) goes beyond "vital life force," but has a strikingly similar meaning to Prana. 

Vital Life Force is made up of herbs that have been used to increase your natural Qi and Prana

. With a touch of Organic Rosemary to help boost mental clarity and reduce brain fog. Enjoy throughout the day to help uplift your being and help you become your highest self. It is recommended that vata doshas avoid this tea in the evening as it may awaken the "monkey mind." Caffeine-free. 


Herbs for Prana:
Gotu Kola 
Holy Basil 
Ashwagandha 

Herbs for Qi:
Eleuthero Root 
Licorice Root
M E T H O D : 
Use 1 tsp of tea per 8oz of boiling water. Cover and allow to steep for 6-8 minutes. Strain and enjoy.
I N G R E D I E N T S :
Organic Ginkgo Biloba, Organic Gotu Kola, Organic Holy Basil, Organic Ashwagandha, Organic Eleuthero Root, Organic Licorice Root, Organic Rosemary.


These statements have not been evaluated by the FDA. This product is not intended to diagnose, treat, cure, or prevent any health conditions. Consult your doctor if you are on any medications, pregnant or nursing. Women who are pregnant, nursing or are considering becoming pregnant should not use herbs without the approval of their doctor.