Regular price
Sale price
$10.00 USD
Unit price
per
Sale
Sold out
Take in the benefits of Chaga and Reishi Mushrooms in a nourishing cup of chai tea. Promotes so mush goodness and soothes the soul. Chaga and Reishi are highly honored healers and ashwagandha is a prized adaptogen. Marshmallow root has high mucilage content and is known to create a slick gel that may benefit the throat and stomach. Caffeine-free. 

Research the benefits this herbal blend in Google Scholar or find your own credible sources by searching key topics such as:
ORAC Rating of Chaga Mushrooms
Immunity and Chaga Mushrooms
Antioxidant Properties of Chaga Mushrooms
Adaptogens and Chaga / Reishi / Ashwagandha
Ginger Root / Cardamom and gastrointestinal issues


FLAVOR : Earthy, Spice-laden, Sweet
AROMA: Complex, Warm Cinnamon
COLOR: Hues of rich clove to black


M E T H O D : 
Use 1-2 tsp per 8oz of boiling water (212°F). Simmer on low for 5-8 minutes. Remove from heat, cover and allow to steep for 5 more minutes before enjoying. Spent tea may be brewed a second time. 

Large Batch Option: Use 6 cups of water and 2 tbs of Chaga Chai (using the 1 tsp of chai to 1 cup of water ratio). Simmer on medium heat for 8-10 minutes. Remove from heat, cover and allow to steep for 5 minutes more. Strain and enjoy!  

Slow Cooker Method: set at "low" until color of tea appears dark and flavor is rich, about 1-2 hours. Set to "warm." Enjoy a cup with a pour over strainer. Consume throughout the next couple of days and add more water as needed; until tea appears to have run its course. This ensures you have extracted all the nourishing benefits of your tea. This is the method they use in the north by natives who harvest Chaga and drink on a daily basis. Some slow cookers simmer at "warm" so be sure to watch your first slow cooker batch.

Wood Stove Method: For the colder months, heating a pot of chai in a cast iron kettle on a wood stove is a lovely way to enjoy your brew. Not all wood stoves recommend this, so confirm with the manufacturer. Please remember to never leave a kettle unattended on a stove, as it may boil dry and the cast iron coating can emit dangerous fumes. Use caution with this method if using around unattended children or pets. 

I N G R E D I E N T S :
Wildcrafted Chaga Mushroom, Organic Reishi Mushroom, Organic Ginger Root, Wildcrafted Marshmallow Root, Organic Cinnamon Chips, Cardamom Pods, Organic Ashwagandha Root, Organic Star Anise, Organic Raw Cocoa Nibs. 
* These statements have not been evaluated by the FDA. This product is not intended to diagnose, treat, cure, or prevent any health conditions. Consult your doctor if you are on any medications, pregnant or nursing. Women who are pregnant, nursing or are considering becoming pregnant should not use herbs without the approval of their doctor.



Share
View full details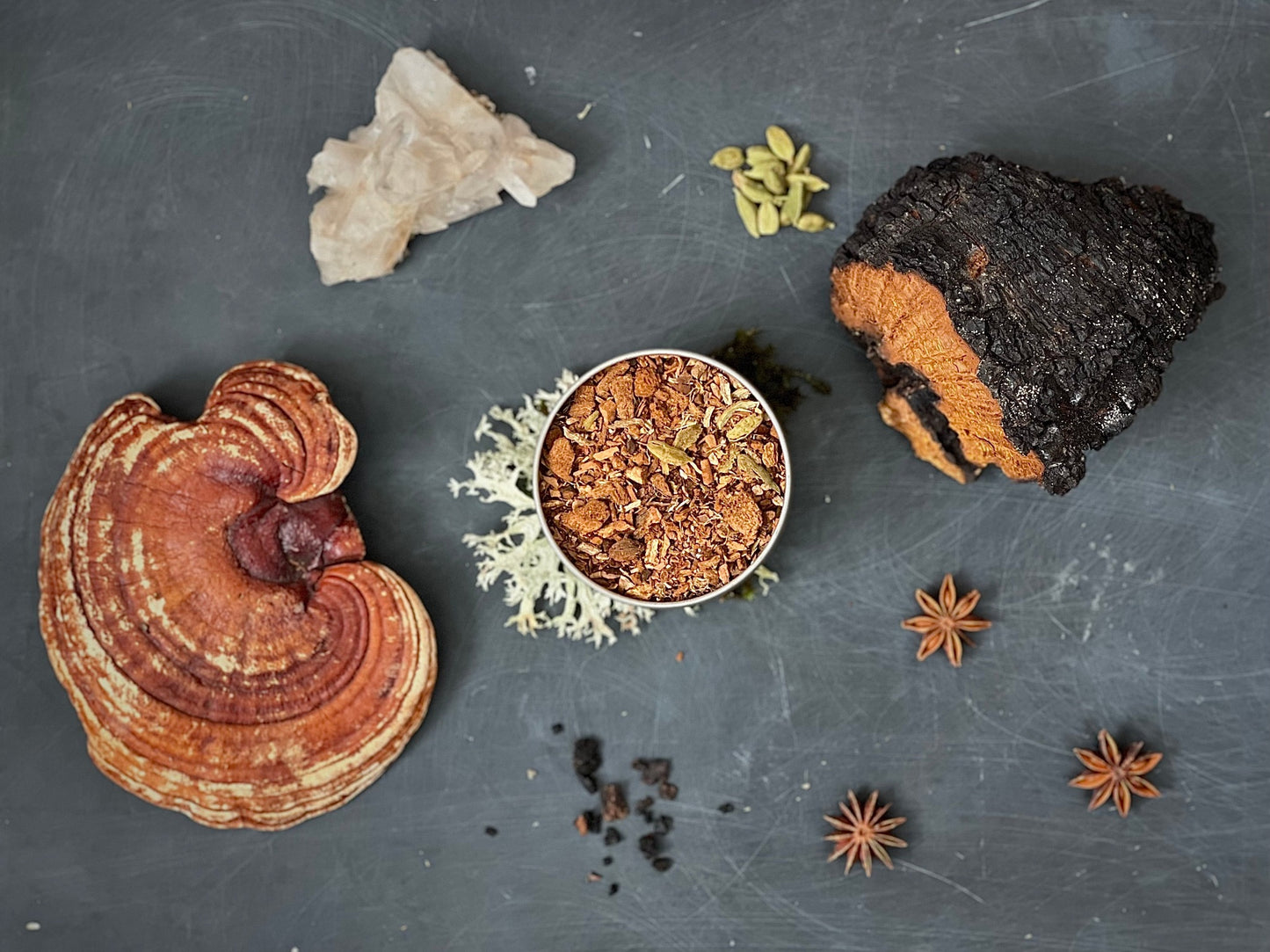 Beatiful Display and Knowledgeable
We bought the Chaga Chai yesterday at the Olympia Farmers Market. The lady, I did not catch her name, was amazingly knowledgeable of everything she had for sell. Her display and ability for me to touch and smell the tea was what sold me. I have a cup brewing now and am excited to take a sip. My wife and I are still talking about the experience of buying from her. Cheers to a welcoming cup of adaptogens!
Mushroom tea
Bought from them at a farmers market,; me and my bf are obsessed with the Chaga tea ❤️